Leadership Development
Leadership and Management Development Programmes
Modular Series of Management and Leadership Development Programme with follow-up Coaching
FirstJoy's Leadership  Development Programmes with follow-up Coaching is delivered using interactive presentations, business simulations, gamification, game-based learning, videos & case studies to ensure a meaningful learning experience for the learners.
Depending on the modules chosen, the entire program could range from 6-9 months.
FirstJoy's Leadership Development program is designed to be modular (2 days workshop + Follow-Up Coaching).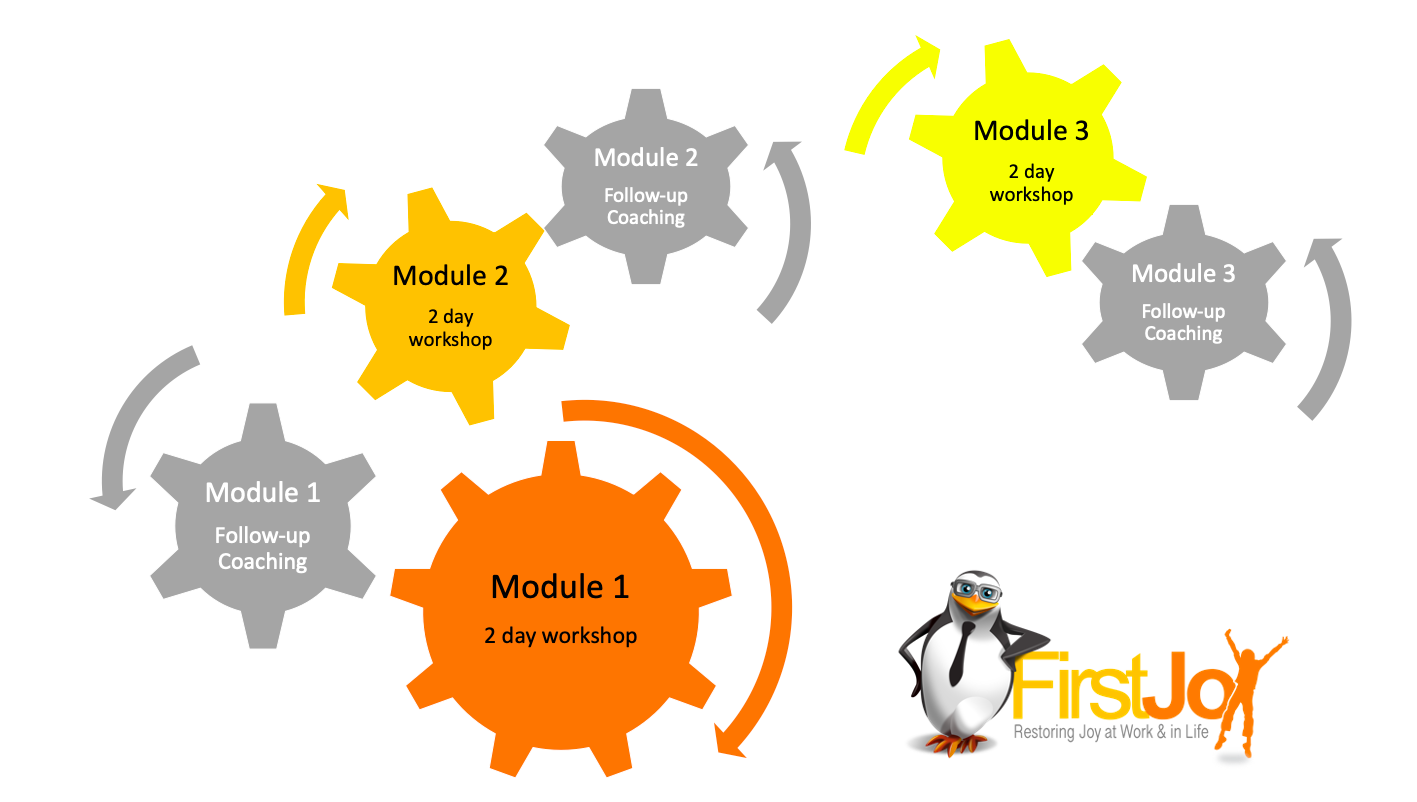 Each module below is a two day workshop and can be customised according to the organisation's requirement:
Personal Mastery: Discovering Your Personality, Strengths & Weaknesses
Management & Leadership Skills
Leadership Vital Signs
EQ for Personal Change and Breakthrough Success  https://www.firstjoytraining.com/eq-for-personal-change-and-breakthrough-success/
Emotional Intelligence for Effective Leadership https://www.firstjoytraining.com/eq-for-leadership-effectiveness/
Business Acumen
Motivation
Coaching Skills to develop others
Delegation & Empowerment
Performance Management & Setting Objectives
Problem Solving Skills: Leading with Questions https://www.firstjoytraining.com/problem-solving-skills/
Action Learning for Team Collaboration
Personal and Team Effectiveness with Lumina Spark Profiling  https://www.firstjoytraining.com/personal-and-team-effectiveness-with-lumina-spark-profiling/
Creativity & Innovation
Behavioural Interviewing Skills
Problem Solving & Decision Making Skills
Personal Effectiveness & Time Management
Persuasive Presentation Skills https://www.firstjoytraining.com/persuasive-presentation-skills-form/
Learning Agility  https://www.firstjoytraining.com/leading-and-thriving-during-change-and-uncertainty-learning-agility/

Mental Agility
People Agility
Change Agility
Results Agility
Self-Awareness

Succession Planning –developing the leadership pipeline
We recommend a selection of  4 – 5 customised modules in the Leadership Development programme to equip leaders to increase their effectiveness in engaging and coaching their team members.
Most of our clients have reported an improvement in their leaders' ability and willing ness to engage with their team members after the first two modules of leadership development. 
FirstJoy highly recommends for clients to commit to post workshop follow-up coaching sessions with their leaders as this would increase personal accountability for learning and skill application as well as learning retention.  
Do feel free to reach out to us and request for video testimonials and stories of how leaders and managers across South East Asia have improved in their leadership skills and confidence after FirstJoy's six- month leadership development program.
Check out our video of J, The Clever Penguin.
J is FirstJoy's newest team member and he has a message for you! 🙂
Let's connect soon!
Check this out: https://first-joy.com/
https://eq.org/members/Angeline-Yon